Important steps of the history of the company
5. VEB coatings and paint factory Leipzig, located in Coswig from 1970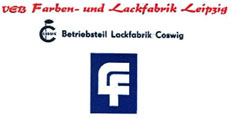 Besides the available product range lots of new products then have been developed. Weld able primer, polyester-paints, cocoon-paint, thermo set coating materials, new product lines for machinery-paints, coil-coating and can-coating.

The volume of the production amounted to approximately 30.000 t each year. About 40 % of the production was exported to the UdSSR. Innovations were presented and awarded at the exhibition of Leipzig.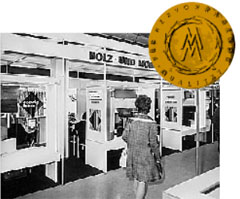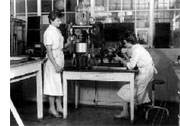 Picture left:
Presentation at the exhibition in Leipzig.

Picture right:
Testing equipment for tin coatings.